Yeshiva school opens gates on $7 million addition
400 attend dedication of Lake Drive facility that some neighbors opposed
By Tom Heinen
of the Journal Sentinel staff
Last Updated: March 13, 2000
Years of planning, struggle and controversy dissolved into joy Sunday as a dancing, singing, hand-clapping throng of Orthodox Jewish men carried sacred Torah scrolls into the new $7 million addition at the Wisconsin Institute for Torah Study, 3288 N. Lake Drive.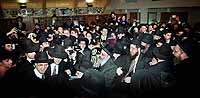 Photo/Mary Jo Walicki
A happy throng escorts the Torah scroll into the new bais medrash Sunday during dedication ceremonies of the Wisconsin Institute for Torah Studies' $7 million addition. The bais medrash is the central location for student research, cooperative study and worship.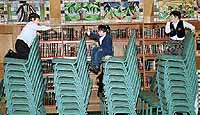 Photo/Mary Jo Walicki
Binyomin Schneiderman (left), 6, Avrohom Halpern, 5, and Moshe Schneiderman, 3, all of Milwaukee, play on stacks of chairs Sunday while attending a reception and dedication of a new addition at the Wisconsin Institute for Torah Study.
"Open up the gates," the men sang in pulsating Hebrew from Psalm 24 as part of the dedication ceremonies. "The glorious king (God) is going to come in."
The scrolls, containing the five books attributed to Moses, rode a tide of emotion. The exuberant crowd swept those ancient messages into the spacious bais medrash - a combination synagogue and study center where rabbis and students working up to 14 hours per day will strive to keep those words alive in the hearts of Jews for generations to come.
Stained glass along the walls depicted Joseph's coat of many colors, the stone tablets upon which Moses received the 10 Commandments, and other scenes from Jewish history.
Tall, clear windows told another story as they poured sunlight into the room while revealing on the other side of the glass how architects blended stone walls into a wooded bluff overlooking Lake Michigan's waters.
Some neighboring residents had waged an intense, sometimes bitter, struggle to prevent the institute from expanding operations in a residential neighborhood at the former mansion the school bought in 1984.
But on Sunday, any lingering remnants of that controversy were nowhere to be seen.
As a crowd of more than 400 students, parents, alumni and visitors from around the country gathered at the yeshiva school, an occasional jogger or walker quietly passed by the front of the deep lot along Lake Drive.
Some school leaders who spoke during a dedication ceremony alluded to the controversy.
Donald Grande, chairman of the institute's board, thanked people for supporting the school during difficult times.
"There were comments by people who considered themselves neighborhood preservationists, people who are interested in architecture," Grande said of a recent newspaper story. "And we have been concerned about architecture. We believe that we have a facility that is beautiful and will add to the neighborhood.
"But you know, the true preservationists are the rabbis who are leading our institutions. Those are the ones who are preserving (Jewish heritage) for 6,000 years and will help bring us into the future. . . .
"The rabbis teach that life has a purpose, that we must fulfill the best of our ability and make an effort to be servants to God. That service is not an esoteric service that they just learn in books, but it requires service to people, and that is a hallmark of this institution."
About a dozen prominent rabbis from around the country were present. Several politicians spoke, including Sen. Herb Kohl (D-Wis.), Reps. Thomas Barrett (D-Wis.) and Gerald Kleczka (D-Wis.), Lt. Gov. Scott McCallum, and two state legislators, Sen. Alberta Darling (R-River Hills) and Rep. Sheldon Wasserman (D-Milwaukee).
Kohl recalled his parents arranging for an Orthodox rabbi to provide 6 a.m. religious instruction for him, his brothers and a sister in their home.
"I know that my particular religious education was very important in my upbringing, and I think in today's society is something that is terribly important for all religious communities," he said.
"Families and schools must work together to help our children realize their potential," Kohl said. "Our children's education is constant; it does not end when they walk out the school door. . . .
"Television, video games and movies are out there competing for their attention. I know that my particular religious education was very important in my upbringing, and I think in today's society is something that is terribly important for all religious communities."
The 23,000-square-foot addition includes nine new classrooms and a state-of-the-art computer lab and science lab for the school's 82 high-school-age youngsters and 56 college-level students.
The school, started about 20 years ago, combines secular studies with intensive religious education. The addition will ease crowding and allow enrollment to rise to a maximum of 160 students.
"Most of the boys here are from Milwaukee, but the word got out, and there are boys from all over the world here," Grande said in an interview. "(Milwaukee students) can can be proud of the fact that they are going to one of the best yeshiva high schools in the country.
"The goal of this school is to teach these boys about the Jewish religion - not only the laws, but the way of living your life. As part of that, they have to emphasize secular studies, because this is not a school where necessarily all the boys will go on to become practicing rabbis."
Appeared in the Milwaukee Journal Sentinel on March 13, 2000.